Prime Minister Nguyen Tan Dung has asked the Ministries of Labor, War Invalids and Social Affairs and Finance to provide him policy options for supporting workers who lose their jobs due to the economic recession.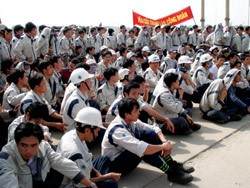 Workers of Doosan Vina in Quang Ngai Province go on strike late 2008. The Government is set to soon announce policies for supporting unemployed workers. (Filed photo: Thanh Nien)
The policies he will draft based on them will focus on three main issues:
   • Lending by the Vietnam Development Bank, a policy lender, to enterprises that lack the funds to pay salaries, social insurance, and unemployment allowance to workers.
   • Providing capital to the fund that lends under a national program on employment for households with unemployed members. Such households will get loans on easy terms for self-employment.
   • Providing loans to unemployed people to learn a trade to find new jobs or work abroad. They will be provided by the Vietnam Bank for Social Policies on easy terms.