Deputy Prime Minister Vu Van Ninh on Thursday led a Government delegation to discuss about a pilot project for a modern high-tech fishing boat fleet in the central province of Quang Ngai.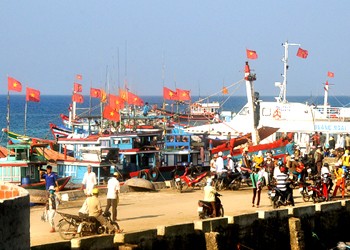 Fishing boats anchored at Ly Son Port in Quang Ngai Province (Photo: VnExpress)
Le Viet Chu, deputy chairman of the People's Committee of Quang Ngai Province and the Vietnam Shipping Industry Group are completing plans of the project to submit to the Government for approval.
The project requires the province to build 20 fishing boats with capacity of 400-800CV each, in Binh Son, Tu Nghia, Duc Pho and Ly Son Districts.
Two 1,000CV support boats will also be built to provide logistic services like purchasing of seafood and fueling the fishing boats in Binh Son and Ly Son Districts.
According to Mr. Ninh, the project is necessary to assist fishermen to operate on the East Sea for long periods at a time.
The province will first carry out the project in Ly Son Island. If successful, the Government will consider replicating it in 28 coastal provinces and cities by mid 2013.