With the specter of the global financial crisis looming over the Vietnamese economy, Prime Minister Nguyen Tan Dung has assigned three urgent tasks to all authorities and businesses: preventing a recession, maintaining growth, and ensuring social security.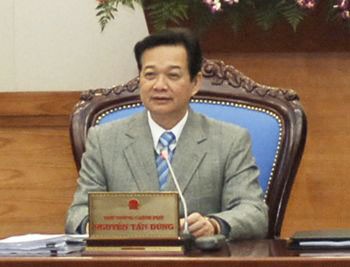 PM Nguyen Tan Dung addresses the monthly government meeting in Hanoi (Photo: Ha Noi Moi)
Speaking at a two-day monthly Government meeting that ended yesterday, he promised to earmark VND16 trillion (nearly US$1 billion) to stimulate the economy and increase investment and consumer spending.
Ministers and other senior officials, who focused on ensuring economic growth, admitted that the financial crisis and natural disasters have caused a setback in many areas, including industrial production, exports, investment, construction, and consumer spending.
They agreed on five sets of measures.

The first is to enhance production and exports by stepping up trade promotion, especially of products with a competitive edge, and expanding markets.

The second is to stimulate investment and consumption, encourage investment in infrastructure, transport, power generation and cement production, and develop distribution and retail networks, especially in remote areas.

The third is to have in place flexible financial and monetary policies to facilitate production, business, and exports, and to improve small and medium enterprises' access to credit.

The fourth set of measures involve continuing social security, including providing funds to the country's 61 poorest districts, and creating unemployment insurance by early next year.

The fifth is to beef up forecast and interpretation of economic movements, speed up administrative reform in areas like investment, construction, site clearance, taxation, and customs, and improve the functioning of State-owned enterprises.