The government has approved a development project to make non-fired bricks from mud, ash, sand and solid waste for construction projects for the period 2008 – 2020.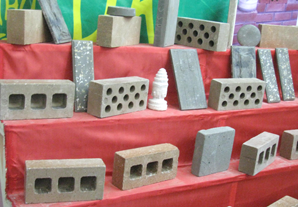 Non-fired bricks
Non- fired bricks are made from industrial waste such as ash, cinder and red mud collected from thermal power stations, metallurgy factories, stone quarries and bauxite factories.
Statistics show that from 2015 to 2020, 50-60 million tons of waste matter will be discharged from factories, causing severe damage to the environment.
Non-fired building bricks are much lighter than other materials and suitable for construction works in weak land areas.
Recently, the use of non-fired bricks for construction projects has become a global trend, such as use of silicate bricks and autoclaved aerated concrete bricks.
Inorganic polymer technology not only reduces costs, but also creates a green, clean environment in towns and rural areas, helping in eliminating poverty in remote and mountainous areas.
Hue Quang Commerce and Technology Company, part of the Institute of Rural Research and Development, has applied the technology to produce special 'green' bricks.
The first building constructed using non-fired brick in Hanoi is the Keang Nam 70-storied building. The owner of this project transported the entire waste construction material and soil, buying the discarded soil from Keang Nam to produce non-fired bricks and then selling them back to Keang Nam. This model will set a pattern of trends for using environment friendly materials in Vietnam.
With the approval of the development project to use non-fired building bricks, Vietnam will strive to use 23-25 percent of non-fired bricks by 2015 and 30-40 percent by 2020. From 2011, construction works having more than nine floors must use at least 30 percent of non-fired construction material whose weight must not exceed 1,000 kilograms.
The decision to use non-fired bricks for construction projects is a suitable development strategy in accordance with the national guideline for industrialization and modernization of the economy and also shows the responsibility of businesses and social communities for the environment, for long term benefit gains.
 

The concept of converting waste matter into bricks construction was developed by Dr. Nguyen Ngoc Chau, Head of Scientific Research and Environment Center along with some other scientists. Non-baked bricks contain 26 percent inorganic waste and are lighter and cheaper than normal bricks. An environment friendly brick costs VND1, 000 while a normal brick costs VND3, 000. Non-baked bricks can be used for building embankments, mounds for anchoring ships and waste depot cellars, contributing to resolving much shortage of waste burial land in big cities like Hanoi and Ho Chi Minh City.