Deputy Prime Minister Nguyen Sinh Hung has joined officials from ministries, agencies and Mekong Delta provinces at a conference to review the region's socio-economic results in 2008 and discuss plans for 2009.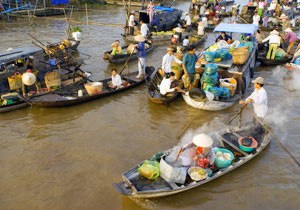 Phong Dien floating market in Can Tho City (Photo: Hoang Thach Van)
Addressing the conference held in Hau Giang province on Dec. 28, Deputy PM Hung appreciated the localities' efforts to overcome difficulties to record a rather high growth rate and ensure security and national defense.
The Deputy PM emphasized that the localities should implement the Government's economic stimulus packages right in the first quarter of 2009.
He suggested the Ministry of Agriculture and Rural Development work along with the provinces to scrutinize their production plans in 2009, and the Ministry of Industry and Trade assist farmers in seeking outlets for farming products.
Banks were asked to extend debt payment deadlines for farmers and businesses, and to satisfy their capital needs.
Deputy PM Hung urged the localities to implement projects on housing for ethnic minority groups, stressing that provinces home to a large population of poor Khmer must work hard to fulfill their plans for 2009.
According to reports from the Steering Board for the Southwestern region, the Mekong Delta region posted an estimated increase of 12.6 percent in total production value over the last year.
Total development investment capital is estimated at VND104 trillion (US$6.2 billion), representing 42 percent the region's of GDP and a year-on-year increase of 18 percent.
The region is expected to obtain an industrial production value of VND91 trillion (US$5.4 billion) this year, up 20 percent, and fetch an export turnover of almost US$5.1 billion, up 22 percent.
The average GDP per capita is estimated at VND14.8 million (US$890), up 28.7 percent but still lower than the country's average of U$1,030. More than 358,000 jobs were generated and the poverty rate was reduced by 1.6 percent to 11.2 percent.
Agricultural production was stabilized this year with the total food output estimated at 19 million tons, up 0.8 million tons as compared with 2007.
However, the sector is facing difficulties, including the sharp decrease in prices of rice and aquatic products, epidemics and the increase of production cost that are causing losses to farmers and numerous barriers to rice export.