Prime Minister Nguyen Tan Dung has asked ministries, branches and localities to continue to synchronously implement inflation curbing measures, in order to stabilise the macro economy and ensure jobs and life for labourers.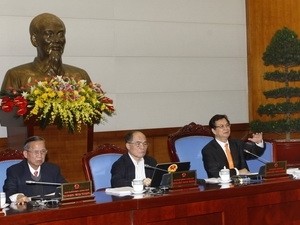 PM Nguyen Tan Dung (R) dilivers speech at the regular meeting in Hanoi, March 30, 2011. (Photo: VNA)
At the regular cabinet meeting in Hanoi on March 30, PM Dung also requested these agencies strictly implement social security policies, especially for poor people, beneficiaries of social welfare and wage earners, and to urgently build policies for low-income workers.
Cabinet members agreed to the Finance Ministry's proposal to provide allowances for low-income earners and small and medium-sized enterprises, due to the pressure of price hikes.
At the meeting, which discussed the socio-economic situation in March and the first quarter of 2011 and reviewed the implementation of Government Resolution No. 11/NQ-CP, PM Dung called on the State Bank of Vietnam (SBV) to closely manage interest rates and for banks to reduce profit and cut down expenditure in order to lower lending interest rates.
He also instructed the SBV to issue regulations on foreign currency management, following a direction to reduce foreign currency lending, and ensure foreign currency supply could meet people's demand as well as preserve a foreign currency reserve, including ensuring enough foreign currency for petrol imports.
Cabinet members said during the three-month period, ministries, branches and localities performed budget expense tightening, cut down public investment and implemented measures to support production, encourage exports and ensure social security.
Thanks to this progress, industrial production increased 14.2 percent year on year, agricultural production was up 3.5 percent, budget collections accounted for 21.2 percent of the year's estimates (the highest level for the period over the last three years), foreign investment increased 1.6 percent, and exports rose by 33.7 percent, bringing the GDP growth rate to 5.43 percent.
According to Minister of Planning and Investment Vo Hong Phuc, 30 ministries and central agencies, 63 provinces and cities, 12 economic groups and State-run corporations reported the cut of 1,387 projects worth nearly 3.4 trillion VND.
However, cabinet members said that political insecurity in the Middle East and North African countries, the pressure of price increases of goods on world markets and input prices of power, coal and petrol on the domestic market will cause difficulties in the efforts to curb inflation.
In March the consumer price index rose by 6.12 percent from last December, resulting in a 12.79 percent increase year-on-year in the first quarter.