Deputy Prime Minister Hoang Trung Hai agreed in principle Thursday to allow the Vietnam National Petroleum Corporation, or Petrolimex, to invest US$4.4 billion-US$4.8 billion in a new oil refinery, the government said on its website.
At a meeting with relevant ministries and agencies, the deputy PM assigned Petrolimex to prepare a feasibility study for the project. Priorities need to be given to environmental protection, technology, investment partners and crude oil suppliers.
The refinery will be located in the Van Phong Economic Zone in the central province of Khanh Hoa, about 450 kilometers north of Ho Chi Minh City.
The Nam Van Phong refinery, with a designed processing capacity of 200,000 barrels of crude oil a day, or 10 million tons a year, is expected to cover 300 hectares on the ground and 300 hectares on the sea in Ninh Hoa District.
Scheduled to start operations by late 2013, the refinery would supply liquefied petroleum gas, gasoline, kerosene, diesel, polypropylene, benzene and some other products.
The government website reported that Deputy PM Hai said the refinery was not in the list of the country's important projects, and the government would hold a stake of less than 30% in the refinery.
Mr. Hai said there were seven refinery projects currently in Vietnam with combined processing capacity of 60-70 million tons of crude oil a year. Among them, the Dung Quat refinery in the central province of Quang Ngai will start operations soon.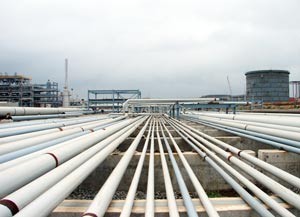 Pipes in Dung Quat oil refinery in Quang Ngai Province (File photo)
He also said Vietnam's consumption of petroleum products was still low, but supply was lower than demand.