The Government has agreed not to abolish the administration of inhabitants based on ho khau (a residency certificate), but asked government agencies to do away with complicated procedures related to ho khau.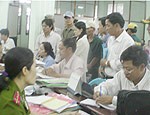 People register ho khau in Ho Chi Minh City
On February 27-28, a regular cabinet meeting discussed social issues, including whether this administration system should be gotten rid of. The conclusion was to maintain the status-quo for the time being, but does not rule out the abolition of the system in the future
Good news from the cabinet meeting was that government agencies are required to minimize administrative procedures that have caused frustration for many inhabitants for a long time.
The regular cabinet meeting, chaired by Deputy Prime Minister Vu Khoan, also spent a lot of time on export matters.
Prime Minister's spokesperson Nguyen Kinh Quoc said on February 28 that PM Phan Van Khai required the Ministry of Trade to work with the Ministry of Industry and the Viet Nam Leather and Footwear Association (Lefaso) in negotiating with the European Union to protect Viet Nam's interest in the EU anti-dumping case against shoes with leather uppers from Viet Nam.
The two ministries and Lefaso are asked to support footwear producers to diversify shoes and seek to promote shipments to markets outside the EU.
Viet Nam posted the January-February export revenue at more than US$5.56 billion, a year-on-year rise of 28.3%.