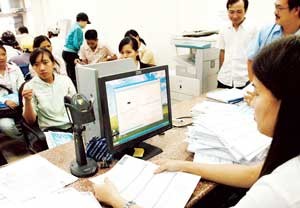 Administrative reform in Vietnam benefits both the public and the administration (Photo: SGGP)
The Vietnamese Government launched on Tuesday a website at
www.thutuchanhchinh.vn
to enhance administrative reform in the country.
The website will enable public officials, entrepreneurs, and private citizens to participate in a three-year project to eliminate cumbersome administrative procedures that hinder business operations and growth.
The website provides timely information about the Prime Minister's Master Plan for Administrative Procedure Simplification in the fields of state management for the period 2007 – 2010, which is called Project 30.
The website was developed with funding and technical support from the U.S. Government through the U.S. Agency for International Development.
Via the website, individuals can suggest ways to amend, add, or eliminate procedures that are creating obstacles.