The Ministry of Labor, War Invalids and Social Affairs unveiled the Vietnam Bomb and Mine Action Center (VBMAC) in Hanoi February 23.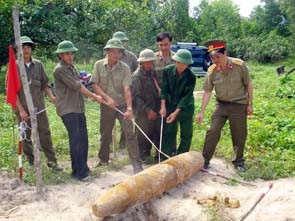 Soldiers discover an unexploded bomb remained from the wartime in the central region of the country

The Center is responsible for discovering and clearing the number of bombs, mines and explosives left in Vietnam after the two wars against the US and France.
The Center will also seek funding from countries, international organizations and non-governmental organizations.
In 2009, VBMAC will conduct its first project to check bombs and mines in some communes of Quang Tri Province, north central coast of Vietnam.
The project is financed with $1.56 million from the Japanese Government through the ASEAN – Japan Fund.
The project is currently the biggest overseas financed operation to clear bombs and mines.
Vietnam is seriously affected by large number bombs, mines and other explosives left over from the wartime. According to insufficient statistics, the amount of bombs, mines and explosives used by foreign armies during the wars in Vietnam was nearly 3.9 times higher than that used during all of the Second World War.

Preliminary studies show that 9,000 out of 10,511 communes nationwide are contaminated with bombs, mines and explosives, covering a total area of 6.6 million hectares, accounting for almost 20% of the country's total land area.

Some 4,000 people are killed or injured by bombs, mines and explosives, at a monetary loss of USD 1.5 million annually. In additional, every year the country must spend nearly VND 300 billion (US$17.6 million)in bomb, mine and explosive clearance.

(Source: Dangcongsan.vn)