The Government has decided to develop Can Tho, the Mekong Delta's biggest city, into the region's hub in many areas such as industry, science and technology, trade, service, transport tourism, education, health care and culture.
The Can Tho People's Committee announced the decision on Saturday. There will be two development stages: until 2015 and until 2025.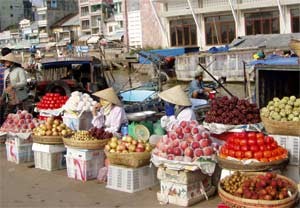 Fruit for sale at a market in Can Tho (Photo: Tuong Thuy)
The delta region's hub covers 139,000 hectares and will house many new residential areas, new industrial parks, service quarters and eco-tourism parks.
Being one of Viet Nam's five centrally-governed cities, Can Tho stands along the Hau River, one of the two main branches of the Mekong River in the country.

Under the development plan until 2025, Can Tho's northwest along the Hau River will give priorities to residential, industrial and service facilities, including a high-tech park and an area for heavy industries near a port. The southeast, along the river too, will also house residential and industrial areas near another port.
About 170 km south of Ho Chi Minh City, Can Tho is interlaced with a network of smaller rivers, brooks, canals and ditches, thus also being a fisheries center of the Mekong Delta, Viet Nam's biggest rice and fruit growing region.