The State budget overspending in 2010 stood at VND109.4 trillion , equal to 5.6 percent of GDP, according to the Government's report.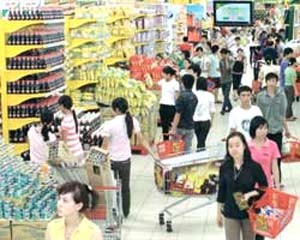 Customers at Ha Noi's Big C Thang Long supermarket. Consumer prices rose at an annual rate of 12.17 per cent in January, the fastest pace since February 2009 (Photo: VNA)
The figure reflected a 0.6 percentage point decrease from estimates and a 0.2 percentage point lower than figure reported by the National Assembly (NA), the government says in its supplementary report on the country's socio-economic performance and State budget plans in 2010 submitted to the NA Standing Committee's ongoing 38th meeting in Hanoi on Feb. 18.
The report also reveals that the State budget collection in 2010 surpassed estimates by over VND48.58 trillion and was VND10.48 trillion  higher than the National Assembly's figure.
The report says in January 2011, ministries, sectors and localities drastically implemented the Government's resolution No. 02 and the Prime Minister's instructions relating to the stabilization of prices and market, promotion of production and preparations for the traditional New Year festival, provided due care for the poor, lonely elderly and those with disabilities, to ensure social welfare and maintain political stability and social order.
It also presents key measures for ministries, sectors and localities in 2011, including synchronously implementing solutions to stabilize the macro-economy, contain inflation and ensure market stability, and increasing the State budget collection to surpass NA-approved estimates by five percent.
Other measures include perfecting mechanisms and policies to raise the efficiency of socio-economic investment, boosting efforts to draw various sources of funding from society for infrastructure, encouraging public-private partnerships, private and foreign investments, reinforcing inspections over State expenditure and continuing the restructuring and renewal of State enterprises.
Agreeing with the Government's supplementary report, Chairman of the NA's Legal Committee Nguyen Van Thuan, however, asked the Government to make clear the "quality" of growth, referring to effects of the soaring prices and the devaluation of Vietnamese dong on social life.
Meanwhile, Chairwoman of the Committee for Social Affairs Truong Thi Mai laid stress on the need to promptly curb inflation, as it is greatly affecting the life of people, especially the poor.
For her part, Le Thi Thu Ba, Chairwoman of the Committee for Justice, touched on an increase in interest rates, saying it would have an adverse impact on production and business activities, and proposed to undertake multi-sided calculations on the issue.