Ministry of Trade and Industry Vu Huy Hoang yesterday conceded that the Government has not provided sufficient support to the domestic supporting industry, but added that there were several factors inhibiting its growth.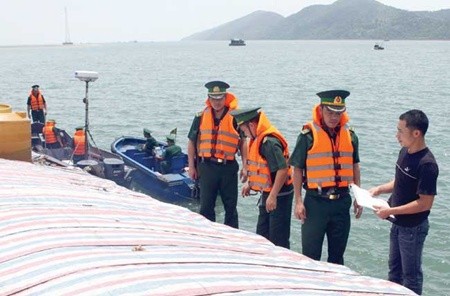 The Border Defense Force inspects a boat at Van Gia Border Gate in Quang Ninh Province. Efforts to fight substandard products and trade fraud have improved, but the force is also facing new problems (Photo: VNA/VNS)
He also said there was a shortage of resources hampering efforts to curtail and prevent trade fraud, including fake and substandard products that were being sold in the market.
Hoang was the first minister who took the floor as the National Assembly began a three-day question-and-answer session featuring several cabinet members including Prime Minister Nguyen Tan Dung.
Deputy Dong Huu Mao of Thua Thien-Hue Province noted that a 2010-20 development plan for supporting industries was approved in 2007. It was said then that the supporting industry was crucial for development of main industries in the country.
However, officials and experts have said that Viet Nam's supporting industry is still underdeveloped, unable to meet demand in terms of quality, quantity and delivery time.
Hoang responded that the production level of several domestic sectors has not reached the level needed for supporting industries to take off.
He noted that with production happening on a large scale, domestic firms in the textile industry have raised their localisation rate to more than 50 per cent.
He said that the global supply chain has been dominated by major players who already have satellite firms. Viet Nam's late entrance to this sector also poses difficulties because of low capacity and lack of adequate human resources, he added.
Hoang said the Ministry would soon provide a comprehensive report to the Government with potential solutions for developing the nation's supporting industry.
He also said the NA should consider formulating a separate law on supporting industries that would serve as a legal framework for their development.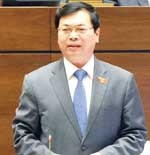 Minister of Industry and Trade Vu Huy Hoang starts the three-day question-and-answer session yesterday (Photo: VNA/VNS)
The Minister said efforts to fight substandard products and trade fraud have been stepped up, but the market was growing at a very rapid pace and in a highly integrated manner.
Violations were becoming more complicated and the task of spotting and punishing them was made more difficult by the resources and staff, he said.
The establishment of a Steering Committee for the Prevention and Control of Smuggling, Trade Fraud and Fake Commodities (or Steering Committee 389) earlier this year was a stop in the right direction, Hong said, explaining that this would gather support from all ministries and sectors.
In response to a question by Deputy Do Van Duong of HCM City, the Minister denied that some of the major hydropower plants in the country were not operating at the expected level.
He said the plants have fulfilled their tasks of generating electricity and providing water for production.
Support for farmers
Also yesterday morning, the parliament discussed a report presented by Deputy Prime Minister Nguyen Xuan Phuc on the Government's implementation of NA resolutions as well as one from the NA Standing Committee on issues raised in question and answer sessions at previous NA sessions.
Deputy Tran Du Lich of HCM City said the agriculture sector must prioritise the type of products and target markets it wants to focus on.
"The story of farmers having an abundant season but ending up losing to low prices has been going on for years," he said.
Deputy Huynh Van Tinh of Tien Giang Province called on the Government to support farmers in finding output markets and strengthen regulations to prevent the sale and use of fake pesticides and fertilisers.
Ineffective governance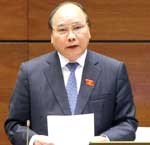 Deputy PM Nguyen Xuan Phuc answers questions raised by NA mem bers during the session (Photo: VNA/VNS)
Deputy Pham Duc Chau from Quang Tri Province expressed concerns over ineffective governance, saying that local governments were typically acting after an accident happened, like the collapse of a bridge, causing public distrust and dissatisfaction.
Addressing the issues of administrative reforms and the fight against corruption, Deputy Nguyen Ba Thuyen of Lam Dong Province said state agencies at all levels have not been effective in eliminating positions deemed unnecessary in ensuring effective delivery of public services.
In the fight against corruption, despite the Government's efforts, the citizens' trust in administrations at all levels was not as strong as it should be.
Deputy Le Nam of Thanh Hoa Province said citizens deserved to know what has happened after inspections relating to high-ranking officials, particularly in the case of former chief Government inspector Tran Van Truyen, who has been under investigation for accumulation of inordinate amounts of cash and property.
Also yesterday, incumbent chief inspector Huynh Phong Tranh said that in Truyen's case, the Government Inspectorate was awaiting final conclusions from its Central Committee under instructions of the Party Secretariat.
Tranh also informed the parliament that most of the 81,000 public complaints received in 2014 were related to land issues.
Deputy Truong Van Vo of Dong Nai Province called on the Government to clarify individual responsibilities for many NA resolutions that have not been properly dealt with or reported, such as the forests that contractors of hydropower plants are required to plant.
Le Nhu Tien, an NA deputy from Quang Tri Province, expressed concern over reports that many of the estimated 78,000 foreigners working in the country did not have proper documents.
Minister of Home Affairs Nguyen Thai Binh and Transport Minister Dinh La Thang will face questions from the NA deputies today. All the question-and-answer sessions are broadcast live nationwide.