A report on bauxite mining projects will be presented at the opening of the National Assembly session on May 20, said Deputy Prime Minister Hoang Trung Hai on May 15.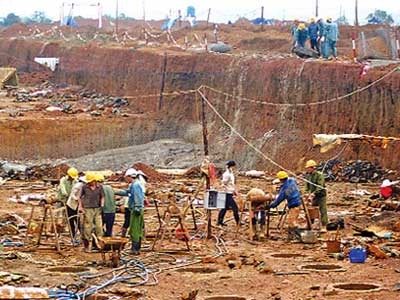 Workers at the Tan Rai bauxite mining site.
The report will closely follow the Prime Minister's proposals to continue exploration of bauxite reserves, plans for bauxite exploration, processing and use between 2007-2015, and production of alumina in the Central Highlands.
The Prime Minister has given the go-ahead to two mines in Tan Rai, Lam Dong Province, and Nhan Co, Dac Nong Province. They must maintain a good rate of progress and quality, and implement environmental protection laws and ensure minimum damage to farms and forests in the region.
At the concluding session of the National Assembly Standing Committee on May 14, Chairman Nguyen Phu Trong said the government should submit a special report about the planning of bauxite mining in Central Highland provinces.