The Vietnamese Government held open dialogs with domestic and international companies at the Vietnam Business Forum in Ha Noi on Wednesday to further improve the nation's investment environment.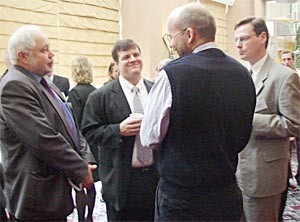 Foreign investors discuss business issues in Viet Nam at the business forum.
World Bank country director Klaus Rohland said Viet Nam had made political and economic reforms to make its business climate more appealing.
Most notable were the passing of the new laws on enterprises and investment, and joining the World Trade Organization, he said.
Mr. H. Yashiro from the Japan Business Association remarked that production costs in Viet Nam were the lowest in the region and mentioned how Japanese companies had expanded production in Viet Nam this year or moved part of their business here.
Japanese companies considered Viet Nam the third most attractive place in Asia to invest in, after China and India, Mr. Yashiro said.
Regarding weaknesses, Viet Nam Chamber of Commerce and Industry chairman Vu Tien Loc said that unofficial costs were still high, it was hard to find suitable land, the legal settlement of disputes remained weak, and the procedures for obtaining a business license were still complicated.
In response, Mr. Loc suggested further administrative reforms, improvement of land management, greater law enforcement and simpler procedures.
Klaus Rohland said the Government had demonstrated its determination to improve the business climate but this determination needed to be translated into action, especially in implementing the laws on enterprises and investment.
 
Now that Viet Nam has joined the WTO, it needs to focus on reforms to infrastructure, transport, seaport services, electricity, telecommunications, tourism, land, the capital market and other areas.
Mr. Yashiro said Viet Nam needed to boost power development significantly and encourage more involvement by the private sector.
Mr. Oliver Massmann from the European Chamber of Commerce said a major weakness was the absence of guidelines to implement the two new laws. His example was the lack of instruction if a foreign company wanted to open a branch, "therefore foreign investors still cannot set up business branches in Viet Nam."
After listening to investors' ideas, Minister of Planning and Investment Vo Hong Phuc said the Government would keep accelerating reform, putting this on a higher level, and clear away any obstacles soon.
He said Viet Nam had plans to continue improving the business environment, with developing infrastructure being among them.
The nation is upgrading its seaports and expects these to be up to international standard by 2010.
In its efforts to develop electricity in order to ensure sufficient supplies by 2020, the Government has allowed many power plant operators to go public and is organizing international bids to select power developers.
Minister Phuc added Viet Nam would continue simplifying land-related procedures and administrative procedures subject to international practices and its commitments.
On behalf of the Government, Deputy Prime Minister Pham Gia Khiem said Viet Nam would remove whatever domestic and foreign investors considered as obstacles.