Tra Vinh Province in the Mekong Delta held a grand opening ceremony on April 24 of a model of Uncle Ho's stilt house.
The structure is built inside the precinct of Uncle Ho's Temple in Vinh Hoi Hamlet of Long Duc Commune in Tra Vinh City. The temple has been listed as a national historical monument by the Ministry of Culture, Sports and Tourism since 1989.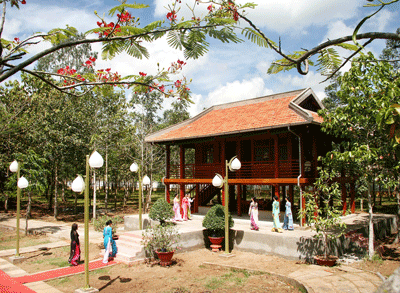 Model of Uncle Ho's stilt house in Tra Vinh Province (Photo:SGGP)
The Centre for Exhibition and Application under the Ho Chi Minh City Museum took responsibility for the design and restoration of this house, which strictly followed the original design of the real house located in Hanoi.
The Ho Chi Minh City Museum was also in charge of training local house guides and managers to look after the place. In addition, each object on display in the structure was restored under careful monitoring to ensure their likeness in design, material, as well as colour to their real counterparts in the capital.
Built at a cost of more than VND5.2 billion (approx. US$249,400), the project consists of four parts: building the stilt house where Uncle Ho lived and worked; creating replicas of his daily use objects; assembling an automatic fire alarm; and installing decorative lights around the stilt house.
The structure has a special meaning to the southern people, particularly residents in Tra Vinh Province. It represents both the pride of the past and an opportunity for youth to be educated on revolutionary ideals of former generations. It is also a part of the national programme 'Learn and Follow the Moral Ideals of Uncle Ho'.
In the near future, local authorities in Tra Vinh Province are going to finish the second phase of the construction project in this national historical monument of Uncle Ho's Temple, which comprises 11 more structures in an area covering 5.36 hectares.
In related news, the Party's Provincial Executive Committee and the People's Committee of the southern city of Can Tho held a gathering on April 24 to celebrate the 37th anniversary of Vietnam Reunification Day (April 30) and to mark the 126th anniversary of Labour Day (May 1).

In the past 37 years, Can Tho Province has tried its utmost to overcome various difficulties and challenges to repair damages caused by the previous war, while working at stabilising its economy and politics. As a result, living standards of its residents have improved greatly day by day, creating a strong foundation for its aim of becoming an industrial city by 2020.