The Department of Agriculture and Rural Development in the central province of Khanh Hoa, the Khanh Hoa Fishermen's Association and the Hai Vuong Aquaculture Company, organised a departure ceremony at Hon Ro Port in Nha Trang City on Feb. 16 for a group of ships to go out to catch blue fin tuna in DK1, Paracel and Spratly Islands.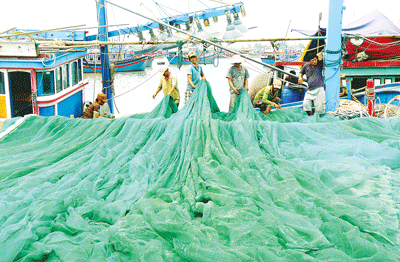 Fishermen in Khanh Hoa preparing for a long trip out at sea ( Photo: SGGP)
This fleet of six ships, known as 'Mother-Children Ships', comprises of six fishing ship groups, each having around five ships, named Truong Sa Lon, Song Tu Tay, Da Tay, Sinh Ton, Da Lat, Da Nam and one large mother ship named Hai Vuong 68, which is 55 metres in length, 8.6 metres in width and weighing 640 tonne.

Belonging to the Hai Vuong Aquaculture Joint Stock Company, the mother ship is equipped with an instant refrigeration system.
All the ships are equipped with high quality communication devices using long range HF waves with GPS.

The mother ship, having a capacity of 1,200CV, has two main tasks. The first is to buy tuna from all the six fishing groups at the same price as on the mainland and immediately process and preserve the produce. The other being to supply fresh water, fuel and essential items to the ships at the same price as in the mainland, so that the ships can be out at sea for longer periods of time.

According to Dao Cong Thien, director of the Khanh Hoa Department of Agriculture and Rural Development, at the moment, approximately 500 fishing ships of 90CV capacity have already signed up for this model of cooperation.
The Bureau of Fisheries and Resource Protection in Khanh Hoa Province have reported receiving 104 applications from ship groups for permission to exploit the island seas.

If this model proves successful, it will be applied for the whole province as well as for the entire fishery industry in the near future.