A conference, held on June 12 in the capital city Hanoi, had met to discuss growth and management orientation of newspapers and games on the net.
Some 32 online newspapers and 180 online editions have been launched legally and 17 game service providers offer around 100 various games on the net in the country, according to the Directorate of Broadcasting and Electronic Information under the Ministry of Information and Communications.
Participants of the meeting held by the Department of Propaganda and Training of Party Committee said some illegal newspapers have violated the law when they released news without permission of the government.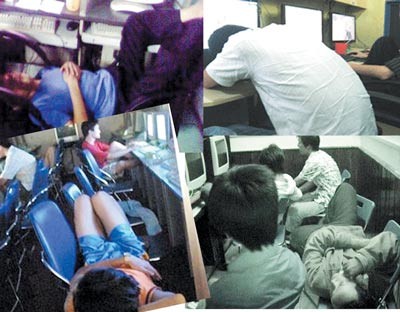 Game young addicts become tired after  spending time playing games on the net overnight ( Photo: SGGP)
In addition, hostile forces abroad take advantage of internet to build websites to release stories distorting Vietnamese government and policies. Therefore, registered online newspapers and editions should improve its quality to propagandize the country's development and renovation to prove its right way to socialism.
It needs to adopt appropriate policies for online gaming to restrict negative aspects because the government can not ban the service.
Phung Huu Phu, deputy head of the Department of Propaganda and Training of Party Committee, said the new draft should be completed to submit for the Prime Minister's approval to reduce adverse impacts of violent online games as well as the government should implement proper policies soon to encourage game service provide to develop their products which can compete with foreign games.
Having appeared in Vietnam for six years, games on the internet have had certain impact on lives of internet users, most of whom are young. Through playing online gaming, gamers will learn team work and management lesson when they want to win an important item.
But online games have created more and more addicts and have badly affected players' lives. Some players must pay to purchase the best equipment and weapons to make their characters stronger to help increase his level; others must spend so much time playing to win such items to sell it that they neglected studying, or worse, they have to be taken to hospitals or conflicts in games lead to real fights.
Over 23 million Vietnamese people or 27 per cent of the population use internet, ranking at fourth in the Southeast Asia.