Vietnam's economy expanded by 6.4 percent in the second quarter, putting the first half's growth at 6.16 percent, the General Statistics Office (GSO) announced Thursday.
The economy grew by 5.83 percent in the first quarter.
 
According to the GSO, the service sector contributed the most to first-half performance, followed by manufacturing and construction, and then agriculture and fisheries.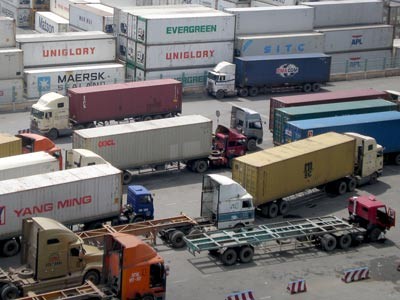 (Files) Containers of goods seen at a port in Ho Chi Minh City
The GSO reported consumer price index increase of 4.78 percent in the first half compared with the index in December last year. Vietnam expects this year's CPI rise to be lower than seven percent.
The country's trade deficit reached to US$6.7 billion between January and June, the GSO said, adding that this is an alarming level.
This trade deficit is equal to 21 percent of all export revenues in the period and 15 percent of gross domestic product, which should raise concerns, according to Mr. Bui Ba Cuong, chief of the National Accounting Bureau.
Trade deficit in the first half of last year was US$2.1 billion.
Vietnam's trade deficit comes mostly from the importation of machines, equipment, materials and fuel. Current statistics shows these imports account for up to 93 percent of total import spending.
The Vietnamese government targets 6.5 percent growth this year. It is also the World Bank's forecast.