The transport ministry opened Ha Noi's two largest underpasses on January 8, which are expected to ease the city's traffic congestion problems during rush hour.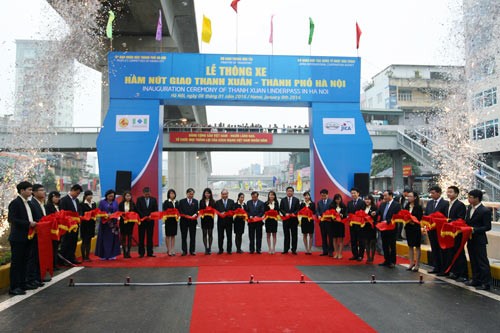 The inauguration ceremony of Thanh Xuan Underpass on January 8 (Photo: SGGP)
The Trung Hoa Interchange, connecting Thang Long Avenue, Tran Duy Hung Street and Hoang Minh Giam Street, has separate indoor and outdoor sections. Each section covers 12m and consists of three lanes, each of which is 3.5m wide.
The total length of the Trung Hoa Underpass and its approach road is about 614.1m.
The Thanh Xuan Underpass crosses an intersection that cuts Khuat Duy Tien, Nguyen Trai and Nguyen Xien streets.
The underpass and its approach road stretch across 980m, including 109m of an indoor section constructed by the Civil Engineering Construction Corporation No.4 (Cienco4) and HANSHIN Engineering and Construction Co., Ltd. from the Republic of Korea.
The underpass forms the city's first four-layered intersection that links Cat Linh-Ha Dong Railway, which is under construction, Belt Road 3 and Nguyen Trai Street.
The two underpasses have been constructed with the help of a Japanese Official Development Assistance (ODA) loan from the capital left from Belt Road 3's phase two. The amounts of money invested in the Trung Hoa and Thanh Xuan underpasses are about VND700 billion (US$31.24 million) and VND551 billion ($24.6 million), respectively.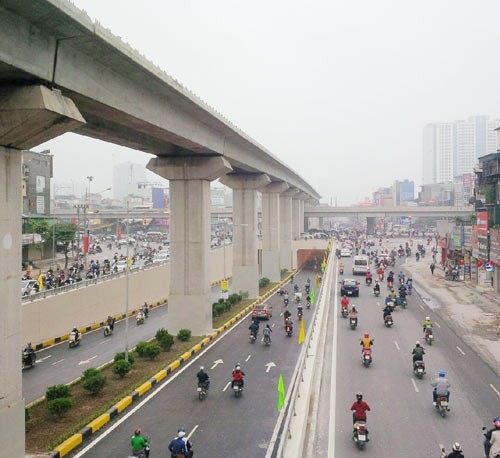 Thanh Xuan Underpass was opened to traffic in Hanoi on January 8 (Photo: SGGP)
Addressing the ceremony this morning, Deputy Prime Minister Nguyen Xuan Phuc said the two underpasses were located at key intersections where traffic jams usually occurred in the city.
The underpasses were completed seven months ahead of schedule, despite difficult construction conditions, he said.
Speaking on behalf of the Prime Minister, Phuc praised the transport ministry, the management board of the Thang Long project and Cienco4 for the efforts they took to finish the construction work.
He asked the ministry and the municipal People's Committee to ensure order in traffic movement and the safety of labourers in areas where transport projects were still under construction.
Chairman of the Ha Noi People's Committee Nguyen Duc Chung said he believed the Trung Hoa and Thanh Xuan intersections would play an important role in resolving traffic problems on roads leading to the city centre and Belt Road 3.
He said the city was committed to taking advantage of these underpasses to ensure the safety of local residents and to ease traffic jams.