On April 22 a wreath was laid by a delegation of Ha Noi officials at a statue of Lenin in Ba Dinh District to commemorate the 137th birthday anniversary of the Russian revolutionary, communist politician, main leader of the October Revolution and first head of the Soviet Union.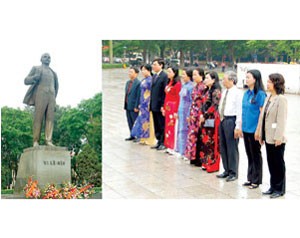 Hanoi delegation at Lenin's statue
The delegation, consisting of officials from the People's Council, the People's Committee and the Central Vietnamese Fatherland Front of Ha Noi, was led by Ms. Ngo Thi Doan Thanh, Deputy Secretary of the Ha Noi Communist Party Committee cum Chairwoman of the Ha Noi City People's Council.
Commemorative wreaths were also laid at the site by members of Hanoi's Union of Friendship Organization, the Central Viet Nam-Russia Friendship Association, the Hanoi-Based Viet Nam-Russia Friendship Association, Ha Noi's Youth Union, the Ha Noi National University of Education and others.