The Hai Phong City People's Court opened trial on April 2 of the case in which Doan Van Vuon and his family members were accused of murder and violence against people on duty while they were forcibly acquiring his land.
The trial will last for four days under the presiding chair of Judge Pham Duc Tuyen and it is expected that 12 defense lawyers will be present at this trial.
Hai Phong City People's Procuracy indicted that Doan Van Vuon, a 50-year-old farmer in Vinh Quang Village of Tien Lang District in Hai Phong resisted law enforcement personnel in a notorious land eviction incident last year, and attempted murder.
Also indicted with the same charge are his three relatives, including Doan Van Sinh, 55, Vuon's elder brother; Doan Van Quy, 46, Vuon's younger brother; and Doan Van Ve, 38, Vuon's nephew.
The four men used self-made weapons to fight back law enforcement officers who executed a decision issued by the district People's Committee to reclaim more than 40 hectares of land from Vuon on January 5, 2012.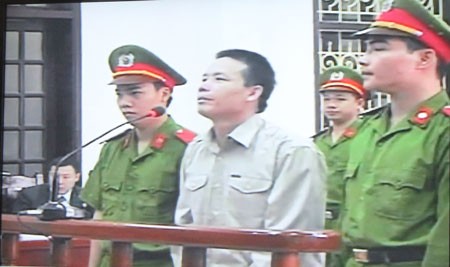 Doan Van Vuon at the court (Photo SGGP)
The prosecutor's office also charged Vuon's wife, Nguyen Thi Thuong, 42; and Quy's wife, Pham Thi Bau, 30, for resisting law enforcement officers. The two women were released on bail.
From April 8 to 10, Hai Phong City People's Court will open public court hearing of the case.
Previously, police in Hai Phong had commenced criminal proceedings against Le Van Hien, former chairman of Tien Lang District People's Committee, for 'irresponsibility causing serious consequences' in the land eviction case.
Hien, 54, was found to have signed an unlawful decision to withdraw 19.3 ha of aquatic farm land from Vuon and other documents related to the land eviction, police said.
Hien and his deputy Nguyen Van Khanh have been dismissed from their posts following the Prime Minister's conclusion that the land withdrawal was against the law.
According to the police, on January 6, 2012, Khanh ordered the illegal destruction of a 2-storey house owned by Doan Van Quy.

For the destruction, Khanh, 51, and three other former officials have been indicted for 'destroying the property of a citizen'.