Truong Son Road, also known as Ho Chi Minh trail, played an important role in the Vietnam War, going down in the country's history as one of the most significant victories.
Now more than 35 years after the war, some names of people and places fade away and are forgotten and those who contributed to this historical event are living their lives in obscurity, facing many difficulties in their daily lives.
Sai Gon Giai Phong Newspaper launched a charity programme, 'Sentimental Attachment for Truong Son Road', which aims to build social houses and provide many means to improve the living conditions of people living along this historical trail route.
SGGP Newspaper also used funds to build sanctuaries and shrines along the trail, and along the border separating Vietnam from Laos and Cambodia; to remind people of the route taken by the brave soldiers to liberate the South.

In 2009, on the 50th anniversary of Truong Son Road, SGGP Newspaper wrote a series of 14 reports titled 'Return to the Legendary Truong Son Road'.
To gather material for these reports, SGGP reporters spent 20 days and covered 6,000 kilometres along Truong Son Road to record any changes to the old route.
During their travel, reporters met with many families, war veterans and ethnic minority people living along the route in difficult circumstances.

After what the reporters saw and experienced on their journey along this legendary trail, SGGP decided to launch a fund to call for donations to help all these people who had contributed so much to liberate the country, but today were living in abject poverty.

The programme very quickly drew a positive response and support from the public, not only newspaper readers but also Government departments and local businesses.

Tran The Tuyen, SGGP Editor-in-Chief said that the charity programme was officially launched on July 27, 2009 with a gala concert held on September 15, 2009 that recreated the setting of the Truong Son road during the Vietnam war.
Within two years of implementation of the charity programme, SGGP mobilised more than VND57 billion (US$2.7 million). With the fund, SGGP has built 683 charity houses in 14 provinces and districts along Truong Son Road, three clinics, offered 1,330 scholarships, provided aid to flood victims in the central and central highland regions, built two bridges in Long An Province and offered 69 television sets to poor families in Gia Lai, Binh Phuoc, Lam Dong and Long An Provinces.
In addition, the programme also built two sanctuaries and shrines in Quang Binh and Quang Tri provinces, Ho Village and clinics in Ha Tinh and Quang Tri provinces and provided school equipment to Kon Tum Social Assistance Centre.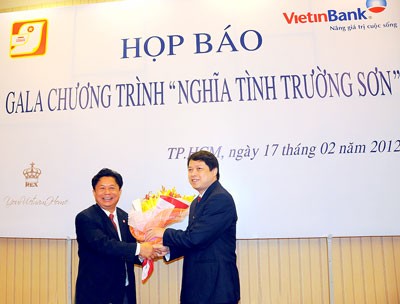 Tran The Tuyen, SGGP Editor-in-Chief (L) offers flowers to Nguyen Van Du, a representative from Vietinbank, main sponsor of the charity programme (Photo:SGGP)
SGGP will continue to implement the second phase of the charity programme with a donation of VND52 billion ($2.5 million) from Vietnam Bank for Industry and Trade (Vietinbank).
Until now, the second phase of the programme has mobilised more than VND60 billion ($2.9 million).
The programme is expected to build 800 charity houses, three sanctuaries and shrines and one commemorative statue of a great hero. The programme will also build five clinics in Dak Lak, Quang Nam, Quang Tri Provinces and in Xavanakhet in Laos and Rattana Kiri in Cambodia, and offer 2,500 scholarships.
Vietinbank has also agreed to fund a documentary film titled 'Return to the Legendary Truong Son Road.'
A gala concert 'Nghia Tinh Truong Son' (Sentimental Attachment for Truong Son Road) will be held at the Ho Chi Minh City Opera House on February 24 and will be broadcast live on HTV9 channel.