The Department of Transport in Hanoi on Wednesday revoked licences of parking lots along 262 streets in nine districts of the city as per orders of the City People's Committee.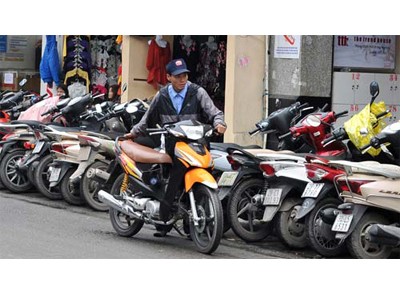 Hanoi has banned parking along 262 streets in the city (Photo: Tuoi Tre)
The move has widened the streets and reduced congestion and chaos which usually prevailed near parking lots such as on Ba Trieu, Bao Khanh, Hang Bai and Hang Bong Streets.
However, some parking lots still continued to operate along Tran Duy Hung, Kim Ma, Cat Linh, Tran Quang Khai, Nguyen Quy Duc and Nguyen Chi Thanh Streets on Wednesday afternoon.
Cars were moving in and out of the parking lots, with several drivers not finding a parking space, delaying their office going time.
The public has raised concern at the closure of so many parking lots without providing an alternative. This makes it difficult for shops and restaurants to function as there is now no place to park customers' vehicles.
Justifying the move, Nguyen Quoc Hung, director of the Department of Transport said that parking is an important necessity but the city cannot fully meet that demand. As a result, some people will have to sacrifice the luxury of a private vehicle so as to help reduce traffic jams and improve the city's landscape.
Hung said that the city is currently working on a project to build more parking lots to deal with the issue. Meanwhile, people must be considerate and cooperate with the city.
The Police Department along with the Department of Transport in Hanoi will crackdown on the remaining illegal parking lots from Thursday. They plan to target illegal parking vendors and unauthorised pavement parking lots.