A fire holy ceremony June 22 took place at Soc Temple in Soc Son District of Hanoi before casting of the Saint Giong statue.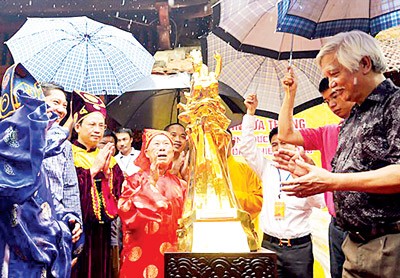 Photo: SGGP
The ritual is part of a project to cast of 60 golden statues of Saint Giong or Phu Dong Thien Vuong Saint in celebration of 60th anniversary of Hanoi's Liberation Day. The event was organized by Vietnamese Association of Historical Science, Vietnamese Buddhist Association and An Ninh Thu Do Newspaper.

60 skillfully handmade gold-plated Saint Giong statues weighing nearly 60 kilogram with the height of 80 centimet are made of pure copper. On these statues, patterns are elaborately wrought carving upon the prototype Saint Giong in Soc Temple of Soc Son District in Hanoi. They are made by architect Nguyen Kim Xuan.

A festival with solemn parade of the Saint Giong's statues will be taken place from Soc Temple to Van Mieu – Quoc Tu Giam (Temple of Literature). Statues and photos of Hanoi in old time and nowadays will be displayed from September 1-5.
One of statues will be presented to Vietnam's Fatherland Front who will conduct an auction to support fishermen, said exhibition organizers.

Duong Trung Quoc, Vice President and Secretary General of the Viet Nam Association of History, Vietnamese, said that Vietnamese people's soul is always engraved with Saint Giong. He is symbol of a serene country which always expect peacefulness.