The capital city will not carry out a planned project to build five welcome gates for the upcoming Thang Long-Hanoi millennial celebrations, announced the Chairman of Hanoi People's Committee Nguyen The Thao at the 21st session of the Hanoi municipal People's Council on July 15.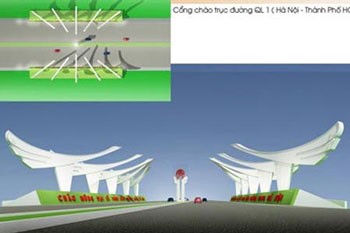 A design of welcome gate
Instead Hanoi will be decorated with ornamental flowers, trees and posters. Money collected from businesses to build the welcome gates will be used for resolving pressing social issues and to renovate urban areas, he added.
The city previously planned to revoke over 14,000 square meters of land to build five welcome gates, at a total capital of around VND50 billion (US2.5 million) on roads including Phap Van-Cau Gie, Bac Thang Long, National Road No.5, the National Highway No. 1A and Lang-Hoa Lac.
The city received many opinions from scientists, experts, architects and the public. Most of opinions said that it is waste of money to build unnecessary entrances. The authorities should use VND50 billion to support the poor and resolve social problems.
Furthermore, the Vietnam and Hanoi Architects' Associations together with many experts did not agree over the design of the proposed welcome gates.
The mayor also pledged that the implementation of decoration works for the grand celebration would be finished before August 15.