The Hanoi Youth Union on February 27 organized a ceremony to honor 56 young physicians and present Dang Thuy Tram Awards to 10 outstanding young doctors in Hanoi.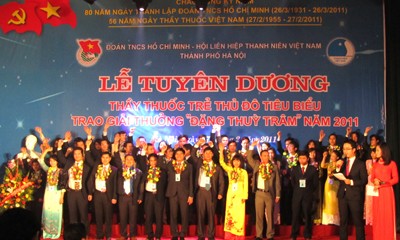 Sixty six physicians are honored at the ceremony in Hanoi on February 27. (Photo:cpv.org)
The event was part of dozens of social and cultural activities being held to mark 56 years of the National Physicians' Day on February 27.
Sixty six physicians represent thousands of outstanding physicians across Hanoi, who regularly provide health care checks-up to old people and pupils of ethnic minorities in mountainous areas.
The Hanoi Youth Union has inaugurated the city's first hospital dedicated to those living with HIV/AIDS in the outlying district of Thanh Tri.
The hospital, officially known as Hospital 09, contains 200 patient beds. City officials said it will provide regular check-ups and outpatient treatment for the city's HIV carriers in addition to inpatient care for AIDS patients.
On the same day, Deputy Minister of the Ministry of Health Nguyen Thi Xuyen and head of the Ministry of Health's Examination and Treatment Department visited doctors at Hoan My Hospital – Hoan My Medical Corporation, the first private hospital in Ho Chi Minh City.
Mrs. Xuyen praised the hospital's achievements in creating the belief of patients about the quality.
In 2010, there were more than 1 million patients come to examine at the hospital's branches.