Hanoi honoured nine outstanding locals together with 961 role models in various fields in 2016 at a ceremony on October 10 on the occasion of the 62nd anniversary of the city's liberation day.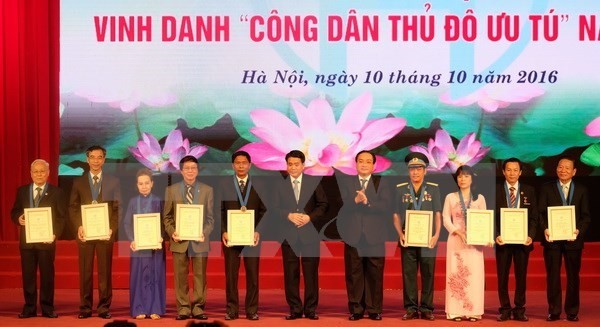 Hanoi leaders present certificate to nine outstanding locals (Photo: VNA)
Addressing the event, Chairman of the municipal People's Committee Nguyen Duc Chung said that this year marks the 24 th anniversary of Hanoi's "good people, good deeds" movement, which has been responded by a large number of locals.
Those with creative minds came up with effective solutions in various fields, including production, science and technology, business and administrative reform, he noted.
There were also those who bravely fought the bad, Chung said, adding that a number of movements in charity, economic development, poverty reduction and protecting security have been spread to all districts.
Among the honoured people was Ta Thi Ngoc Thanh, Vice President of the Study Encouragement Association of Dich Vong Hau ward in Cau Giay district who donates about 20 million VND each year to help poor students though her family has been living in difficult conditions and her husband is disabled.
Currently, she is sponsoring 14 orphans and helping two others whose fathers are working in islands. She has also registered to donate her cornea to blind children after she passes away.
During the rest of the year and 2017, Hanoi will focus on promoting the "good people, good deeds" movement and fulfilling all socio-economic targets.-VNA