Government authorities in Hanoi have made adjustments to office work timings as well as school-going hours for children in a concerted effort to curb traffic congestion, so that there is minimum clash and overlapping of rush hour traffic on city streets.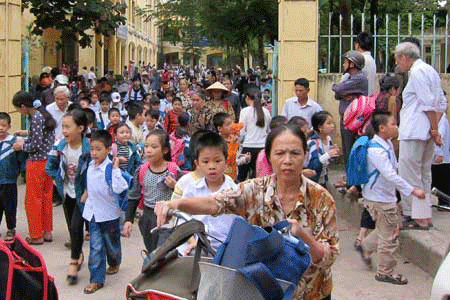 New school timings will require much adjustment for working parents (Photo: SGGP)
The new timings will take effect from February 1, in two suburban and 12 urban districts of Hanoi. The move will affect all office goers and 1.5 million students.
 
Educational institutes in Hanoi have already issued the new timetable to parents. Kindergarten, elementary and middle school students will start one hour later than before, from February 1, at 7.40 am, with school getting over at 5 pm.
Several parents complained that the new school timings did not suit their office going hours at all. With office starting at 7 am, most parents would have to rush back and forth to drop their children to school.
Meanwhile, many preschools were over by 4 pm, but had been ordered to release the students only at 5 pm, which was peak rush hour.  Therefore, a traffic gridlock was unavoidable.
Nguyen Hiep Thong, deputy head of the Department of Education and Training, said the change in work and school timings would certainly affect the daily activities of families and schools; however, for the sake of a social cause, one should try to overcome some minor inconveniences.
From a total of 90,000 high school students, 35,000 will be studying in the afternoon shift. For this purpose, the Department of Education and Training has ordered schools to provide adequate lighting in classrooms for students.
In a directive sent on Tuesday to all the schools, the Department of Education and Training in Hanoi has banned educational institutes from making any changes to the new school timings without prior permission of city authorities.
The education and training divisions in Thanh Tri, Cau Giay, Ha Dong, Hoang Mai, Thanh Xuan, Hoan Kiem Districts; middle pedagogy schools; Nguyen Gia Thieu and Ly Thuong Kiet high schools, have agreed to abide by the new school timings.
Officials and staff of central Government and Hanoi offices will start their working day at 8 am and end at 5 pm.

Accordingly, high school, university, college and vocational school students will start their school day at 6.30 am for the morning shift and end at no later than 7 pm for the afternoon shift.

Staff working at shopping centres and in the service sector (except banking and finance) will open at 9 am and close after 7 pm.