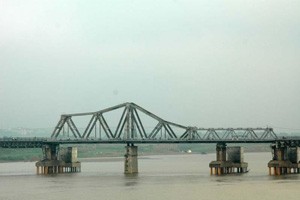 File photo of Long Bien Bridge over the Red River in Hanoi
Hanoi will build a number of bridges across the Red river in the coming time, according to the municipal Department of Transport.
Under a draft plan on transport infrastructure development in Hanoi in the period of 2011-2015, the works include Dong Tru bridge, Nhat Tan bridge, Phu Dong bridge No.2, Vinh Thinh bridge and Vinh Tuy bridge (second phase).
In addition, Hanoi plans to build and upgrade 35 bridges in the city's areas to ensure traffic safety and facilitate transportation.