The Hanoi People's Committee announced on February 25 that the city will join the Earth Hour campaign for the first time and will switch off lights for one hour next month.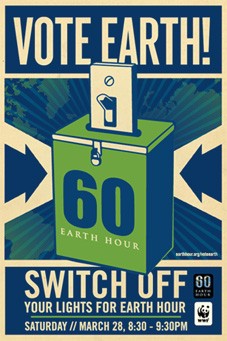 On March 28 Ha Noi will switch off lights for one hour for Earth Hour (Photo earthhour.org)
The campaign was begun by World Wide Fund for Nature and World Wildlife Fund in 2007 in Sydney, Australia.
The city's leaders will deliver a speech at the Opera House at 8 pm on March 23.
Lights in the Opera House and surrounding areas will be switched off from 8:30 pm to 9:30 pm.
A music program will be performed under candle light at the same time.
Hanoi will also turn off non-essential lights in some public areas, such as Sword Lake (Guom Lake), Truc Bach Lake, My Dinh stadium and the National Conference Center.
Essential services, like hospitals, traffic lights and security lights, will be maintained to ensure safety and security.
This year, the campaign is expected to attract more than one billion people in 1,000 cities around the world. Communities, businesses and governments are invited to switch off all lights for one hour at 8:30 pm on Saturday, March 28.
Earth Hour is a global event and aims to bring together a diverse group of peoples, governments, corporations and NGOs to heighten awareness about climate change, and inspire consumers and businesses to take practical action to reduce their own carbon footprints.
Participants can register at www.earthhour.org.