Prime Minister Nguyen Tan Dung has urged Hanoi to push up construction of projects to help ease traffic congestion, which he described as the main task for both the capital city and the government.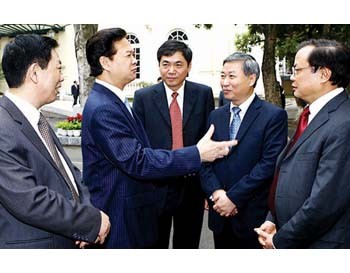 Prime Minister Nguyen Tan Dung (2nd L) speaks with Hanoi leaders on March 17
The city should mobilise all sources for infrastructure with priority given to key infrastructure projects such as radial roads and bridges, PM Dung said at a working session with Hanoi senior officials on March 17.
In addition to long-term measures, the city should adopt concrete solutions, focusing on the rapid completion of projects and on raising awareness through education of traffic rules and regulations in order to reduce traffic jams, according to the PM
The PM hailed the achievements obtained by the capital city's party committee, authorities and people in recent years, such as their outstanding performance in urban management as well as cultural and educational development. The city's GDP represents 12 percent of the country over-all, and budget collection makes up 18 percent.
He asked Hanoi to strive to register a growth rate of 10 percent along with curbing inflation and undertaking effective administrative reform.
At the meeting, Chairman of the Hanoi municipal People's Committee Nguyen The Thao stressed the difficulties encountered while carrying out major investment projects in the city, which he attributed to the ongoing process of building and revising socio-economic master planning, municipal construction planning and other planning, as well as problems in site clearance.
Chairman Thao proposed that the government permit Hanoi to apply specific mechanisms, and empower the city to decide on investment for special projects, in order to mobilise all capital resources and accelerate investment in urban technical infrastructure until the law on the capital city is promulgated.
The city asked to take out loans from foreign financial institutions to implement major projects on technical infrastructure, aqueducts, and environmental treatment.
The Hanoi authorities urged the Prime Minister to put the city's major infrastructure and transport projects-such as flyovers, railways and metro rail lines--into the national target programme.
The city also asked for permission to launch a 10-day millennium anniversary of Thang Long-Hanoi on October 1 at the King Ly Thai To Garden and an art gala to celebrate the event on October 10 at the My Dinh National Stadium.
At the meeting, Deputy Prime Minsiter Hoang Trung Hai urged Hanoi to pay attention to architecture that is imbued with the city's characteristics while implementing its major projects.
Permanent Deputy PM Nguyen Sinh Hung stressed the importance of city planning and the environment and called for regulations on the management of villas and construction procedures.