After a few articles on the death of the coral reef and ruthless exploitations appeared on Sai Gon Giai Phong newspapers, a full investigation has been carried out by scientific organizations, said an official of the Quang Ninh Department of Science and Technology.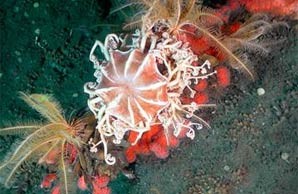 Harmful habits will destroy such beautiful coral reef like this
The conclusion was arrived at after a full investigation in the Ha Long Bay area found that fishermen overused explosives and xyanogen to do their work.
The investigation was conducted in association with the National Directorate of Fisheries Resources Exploitation and Protection (NADAREP) (under Viet Nam's Ministry of Fisheries), the World Conservation Union and the Institute for Environment and Resources.
As a result, the Quang Ninh People's Committee instructed the local leaders to stop issuing licenses for divers and fishermen.
The government also banned coal transportation and exportation in Ha Long Bay to protect the landscape and environment, including its coral reef.