Ho Chi Minh City delegation led by Politburo member and Secretary of the HCMC Party Committee Le Thanh Hai, offered incense to commemorate the martyrs at Doc Lap Martyrs Cemetery in Dien Bien Province on March 10 to celebrate the 60th anniversary of Dien Bien Phu Victory.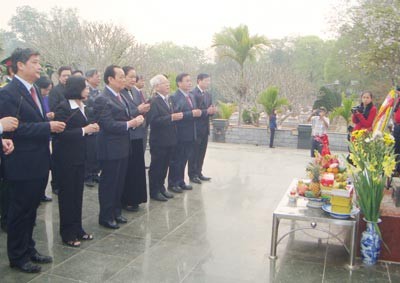 City leaders offered incenses to commemorate the heroic martyrs at Doc Lap Martyrs Cemetery (Photo:SGGP)
Mr. Hai expressed deep gratitude in the visitor book for the martyrs who sacrificed their lives for the country's independence and freedom.
The sacrifice will forever hold in the hearts of the Vietnamese people of the next generation, said Mr. Hai.
The delegation held a meeting with leaders of Dien Bien Province after the ceremony. Secretary of Party Committee of Dien Bien Province Lo Mai Trinh reported achievements in the fields of economic, culture and society of Dien Bien Province in last year.
In 2013, local authorities tried to reduce a number of poor families, improved the living material and spiritual of residents, invested in infrastructure for people, impulse the development of economic and contributed to stabilize security and defense.
Dien Bien province completed policies of political bureau and celebrated the 60th anniversary of Dien Bien Phu Victory for the first time on a national level. The province held propaganda activities of culture, sports, tourism. The province also begun construction and upgraded stadiums, A1 Cemetery, Him Lam Cemetery and Na Nhan- Muong Phang route.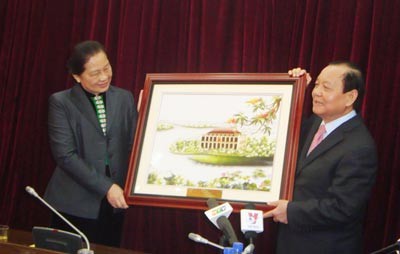 Secretary of the HCMC Party Committee Le Thanh Hai (R) offered a painting to Dien Bien province (Photo:SGGP)
Mr. Hai honored achievements of the Party, the local authorities and ethnic minorities in the province. He expressed hope that the province will overcome all difficulties and challenges to help in future development.
Dien Bien province has much potential for economic development and trade, tourism, said Mr. Hai. It has great potential for development and processing of industrial crops such as rubber, tea and coffee. HCMC will continue to support the province.
City leaders awarded VND 32.5 billion to support the welfare projects of Dien Bien Province.
Dien Bien Province includes eight districts, one country town, and one city. The city has 130 communes, districts and towns with over 53,000 residents, including 19 ethnic groups such as Thai, Mong, Kinh, Kho Mu and others. Dien Bien province is also core place for defense and security of protecting the country's sovereignty.
On March 11, city delegation will continue to visit historical monuments at Muong Phang commune.
The city delegation along with Chairman of People's Committee of Ho Chi Minh City Le Hoang Quan, Deputy Secretary of the HCMC Party Committee Nguyen Thi Thu Ha, Deputy Standing Secretary of the HCM City Party Committee Nguyen Van Dua, Head of the Department of Propaganda and Training of the HCMC Party Committee Than Thi Thu, representatives of City Fatherland Front Committee, and the Armed Forces of HCMC.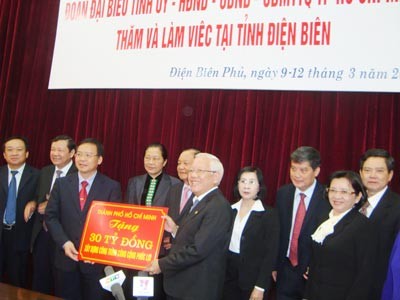 Chairman of People's Committee of Ho Chi Minh City Le Hoang Quan offered VND 30 billion to build Muong Ang hospital (Photo:SGGP)