The Ho Chi Minh City Department of Natural Resources and Environment held a workshop on Tuesday to collect ideas on cleaner production regulations as part of an effort to employ more incentives for companies to up their environmental standards.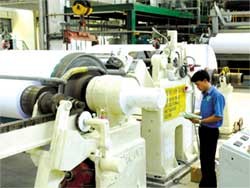 Cleaner production is a criterion to judge enterprises

The city's draft plan regulates incentive policies for enterprises if they conduct cleaner production. Companies from all sectors can request support from the Vietnam Cleaner Production Center to help implement cleaner production methods and can also use the resource to attend training courses.

Enterprises or organizations successful in downing their pollution and environmental damage will be listed in the "Green List" to be publicized in the mass media.
They will also be exempt from income taxes and value added tax for consultation services on cleaner production, making them highly favorable to capital investors.

Most deputies agreed that the municipality must issue policies to encourage cleaner production in the near future.

Many deputies proposed that an "environmental criterion" be officially introduced to the list of standards for business effectiveness as part of the government's official criteria when assessing and judging enterprises.