HCMC has been focusing efforts to improve environmental quality since 2011 but they have not worked as expected because the quality has quickly reduced, according to associate professor Phung Chi Sy, deputy head of the Tropical Technology and Environmental Protection Institute and the Environmental Technology Center.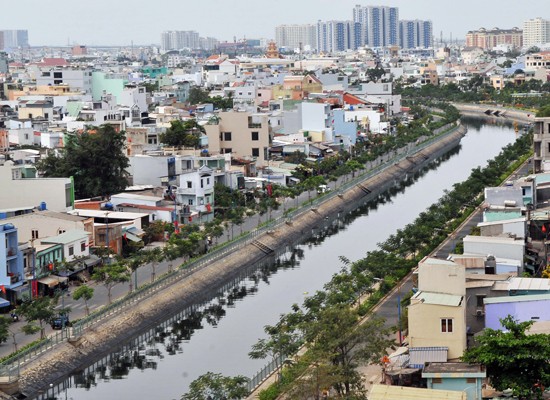 Tan Hoa-Lo Gom canal has gradually been cleaned up (Photo: SGGP)
Statistics from the city's Department of Natural Resources and Environment show that 60-70 percent of 76 kilometers of canals inner HCMC has been polluted.
Saigon river quality has failed to meet standards of a household water supply source because environmental norms have exceeded the permissible level by 2.5-8.3 times. Microbiological concentration sometimes exceeds the permissible level by 700 times.
Air pollution is another concern, Mr. Sy said. Discontinuous observation activities have caused the department and relevant agencies unable to provide continuous measurement of data.
Still, the associate professor said factory fume volume could partly show the concerning air pollution in the city. Enterprises in export processing zones and industrial parks are eliminating 32 tons of dust, 487 tons of SO2 and 27 tons of NO2 on average a day.
In addition, over 55 percent of businesses locating scattered in districts have no fume treatment facilities. The city's atmosphere has regularly experienced a large volume of exhaust fume and dust from construction activities.
Environmental quality has reduced despite HCMC's spending of thousands of billions of dong on improving it. The funds are quadruple now compared to 2010 to reach VND21 trillion ($942 million) a year.
In addition, HCMC has approved an infrastructure project worth VND500 billion (US$22.42 million) to control the quality of air, underground water and surface water. The system is expected to come into operation by 2018.
Ms. Nguyen Thi Thanh My, deputy director of the department of Natural Resources and Environment, said that the agency has worked with investors to develop a modern garbage treatment system to gradually reduce buried volume.
Plants can handle only 13 percent of urban wastewater now. Therefore, the Steering Center of the Flood Prevention and Control Program will attempt to call social investment in this field.
Recently, city leaders have conducted field surveys to solve the existing confusion in canal management. A canal now is managed by four agencies resulting in low efficiency.
In the upcoming time, the city will task a single agency to take the responsibility and prevent cleaned up canals from being polluted again.
Associate Professor Phung Chi Sy suggested that the city should to change from spread investment in environmental quality improvement into solving each item of the plan definitely.
For instance, the municipal authorities should put an end to infrastructure shortage to control environmental quality within the next couple of years. In the following phase, it will build system of plants to collect and handle urban wastewater.
In addition, there should be a policy to permit investors to build solid waste treatment faculties and receive land in return. This is an efficient way to handle the huge amount of solid waste amid budget difficulties.
The above method will be slow but its efficiency will be much higher than the existing spread investment, Mr. Sy affirmed.
Moreover, he prompted authorized agencies to tighten environmental regulations in polluting fields and issue sanctions to tackle individual violators.