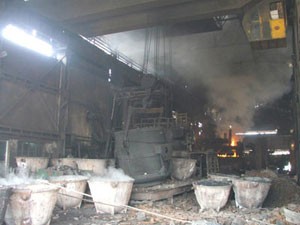 A worshop of Nha Be Steel Factory (Photo: VietnamNet)
The Nha Be Steel Factory and Tan Thuan Steel Factory have broken Viet Nam pollution regulations and will be subject to the highest administrative punishment, said the Ho Chi Minh City People's Committee Friday.

The city authority has ordered that the factories immediately halt production and be relocated expeditiously by the Department of Industry to locations farther away from residential areas.
The Department of Natural Resources and Environment will be responsible for supervising the two factories in the future to ensure that anti-pollution standards are met.