Ho Chi Minh City has to cope with about 7,800 tonnes of solid waste each day, most of which is piled at dumping sites, said Dao Anh Kiet, director of the Department of Natural Resources and Environment in a seminar on Thursday.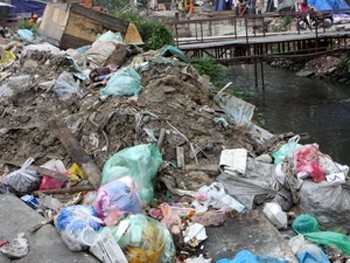 (Photo: VNA)
Kiet was speaking at a seminar on solid waste treatment hosted by the city. He said that only a small part of the above solid waste amount is recycled for compost, and that the garbage is just dumped at the site but not segregated.
According to him, 70 per cent of the fund allocated for waste treatment in Ho Chi Minh City comes from the city budget.
At present, the State does not have policies to encourage investment on projects to utilise and recycle waste. Vietnam should issue a law and policies and even build a national strategy to tackle this issue.
At the above seminar, Japanese representatives pledged to assist Vietnam as well as Ho Chi Minh City to improve its waste treatment facility and offered new recycling technology, in order to improve the effectiveness of the current waste treatment system and reduce environmental pollution.