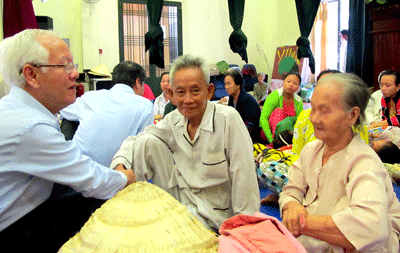 Chairman Le Hoang Quan talks to senior citizens in a safe shelter in Can Gio District ( Photo: SGGP)
Ho Chi Minh City leaders and representatives of various departments toured Can Gio District morning of April 1, to check the damage caused by Storm 'Phakar', and to speed up restoration work.
Le Hoang Quan, chairman of the HCMC People's Committee; Nguyen Van Dua, deputy secretary of the HCMC Party Committee; Le Minh Tri, deputy chairman of HCMC People's Committee, did a thorough survey of Can Gio District.
Nguyen Van Dua ordered the district authorities to supervise preparations to cope with the storm, as well as evacuate residents from the coastal commune of Long Hoa to safer shelters. Dua also ordered the local government to check restaurants and hotels, and order travellers to move away from vulnerable districts.
Earlier, pre-warned by the authorities, Can Gio District had relocated over 3,200 residents from the coastal areas including from Thanh An to the Cultural Centre, the Children's House and other safe shelters in Can Thanh Town.
Besides, more than 1,391 fishing vessels have anchored in safe locations, and over 300 tourists had left the district on March 31 and April 1.
The city leaders also assessed damages caused by the storm in Can Gio District. As of 5.30pm, four houses in the district had collapsed, roofs of 16 other houses had blown away, 12 boats were swept away and many trees and an electricity pole had fallen down.
The storm also caused damage in Districts 1, 5, 9, Phu Nhuan, Thu Duc, and in downtown HCMC where trees were uprooted and houses damaged.
In addition, houses were damaged in Huynh Tan Phat Street in District 7; Hoa Binh, Au Co Streets in Tan Phu District; Bau Cat, Dong Den Streets in Tan Binh District; Do Xuan Hop Street in District 9; while Nguyen Van Qua Street in District 12 was flooded with 30cm of water.
The city ordered the Department of Transport and the District's people's committees to ban all boats from heading out on the rivers.
In southern Vietnam, a 25-year-old man, Tran Xuan Hau, was swept away in Ninh Hai District in the coastal province of Ninh Thuan.
A fishing vessel with fisherman Pham Kien, anchored in the Ca Na fishing harbour, sunk under huge waves.
Buses and cars transporting passengers and goods from Da Lat to Nha Trang were stuck for hours in severe traffic congestion on Khanh Le-Lam Dong Street in the coastal province of Khanh Hoa.
The central province of Binh Thuan reported three fishing vessels had sunk; three houses and four schools in Phan Thiet City were de-roofed while the Mekong delta province of Vinh Long had 321 houses and vegetables and crops damaged.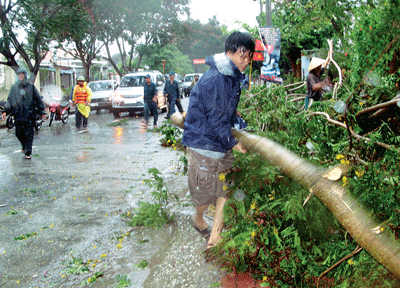 Many trees in downtown HCMC were uprooted in the storm ( Photo: SGGP)
Salt farmers in the Mekong delta province of Bac Lieu were in despair as more than 3,000 hectares of salt was destroyed; the strong wind blew away the roofs of 24 houses and one resident was struck by lightning.
Ca Mau Province in the southern most tip of Vietnam said nearly 300 fishing boats have anchored safely in Song Doc and Khanh Hoi. The storm caused 17 houses to collapse and blew off roofs of 70 other houses.
In other Mekong delta provinces of Tra Vinh, soc Trang, Hau Giang, roofs of 40 houses caved in and electricity poles fell down along streets.
Storm 'Phakar' was the first major storm of the year. Moving south southwest on the East Sea, it gradually abated into a tropical low pressure system. The low pressure system is still generating gusts of level 6 in the coastal areas of the central province of Binh Thuan to the southern province of Ba Ria-Vung Tau along with torrential rainfall.