The Director of Ho Chi Minh City Department of Foreign Affairs met with the Chinese consul general in the city, Chai Wenrui, May 12 to protest against China's unilateral act of dispatching an oil rig to Vietnam's continental shelf and exclusive economic zone last week.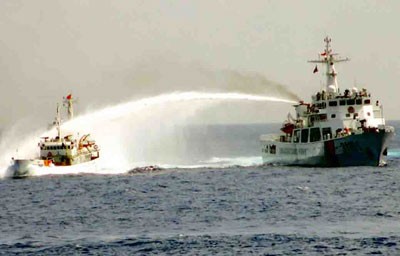 A Chinese ship (R) fires water cannon at a Vienamese coast guard vessel
The presence of HD981 along with a large number of vessels, including military ones, in Vietnam's continental shelf was illegal and violated international law and practice, the department's director, Nguyen Hong Linh, told Chai.
China's action seriously infringed Vietnam's sovereignty over Hoang Sa (Paracel) Islands as well as its EEZ and continental shelf.
This had negatively affected ties between the two countries and hurt Vietnamese people's sentiments towards Chinese.
Vietnam had sufficient legal basis to proclaim sovereignty over Hoang Sa and Truong Sa (Spratlys) under the 1982 UN Convention on the Law of the Sea.
Vietnam would use all appropriate and necessary measures to protect its rights and legitimate benefits.
Vietnam always showed goodwill and patience in resolving disputes through negotiations and other peaceful measures in accordance with international law to prevent them from damaging ties.
 
People in HCMC were very displeased and objected to China encroaching on Vietnamese territory, and wanted immediate withdrawal of the oil rig from Vietnamese waters.
They also expressed support for the Government's policy of resolving disputes at sea peacefully in accordance with international law and the 1982 convention.
The department has sought close coordination with the consulate to exchange information in order to ensure the safety of the consulate and Chinese nationals in the city in accordance with international law and the traditional friendship between the two countries.