December 17, Ho Chi Minh City People's Committee Chairman Le Hoang Quan sent a commendation letter to all citizens praising their almost universal compliance with the latest motorbike helmet requirements effective December 15.
Noting a significant decline in both traffic congestion and accidents after just three days of strict helmet-wearing enforcement, Chairman Quan lauded city residents, workers, the police and soldiers for their responsible compliance.
Mr. Quan said, "Such achievements at such an early stage of this project have proven the citizens' high awareness of the importance of complying with appropriate government policies."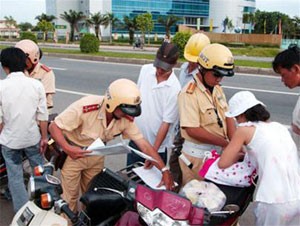 The police fine motorbike drivers without  wearing helmets
The Mayor also encouraged HCMC motorbike drivers to continue abiding by all traffic laws to help ease congestion and to reduce accidents.
HCMC Traffic Police Deputy Head Senior-Lieutenant Colonel Vo Van Van reported the same day that 98 percent of city motorcyclists have been wearing helmets since the law came into effect.
According to Mr. Van, the traffic jams and congestion fell markedly over the past three days, with, purportedly, only accidents on December 15. Traffic violations also dropped.
In Ha Noi, recent reports from hospitals indicate cranial injuries over the first three days of the helmet law fell significantly even while accidents increased.
Over the law's first two days, 32 out of 44 accidents were reported to have involved cranial injuries, of which 22 were not wearing helmets.
December 17, at Viet Duc Hospital, of 16 traffic accident injuries admitted, six suffered cranial injuries, three of whom wore no helmets.
Traffic Police report having caught and fined 25,000 violatiors over the first two days of the helmet law.
Ha Noi topped traffic violations with 8,400 of the law's first few days, three times as many as in HCMC.
Also according to the Traffic Police, so far this year, there have been 14,218 cases of traffic accidents nationwide, killing 12,857 and injuring 10,631.