The volume of toxic waste discharged a day in Ho Chi Minh City is estimated to reach 300-600 tons this year but the city has been able to treat about 20 percent of this waste's volume. Experts said that local authorities should further invest in treatment facilities to prevent worse environmental pollution.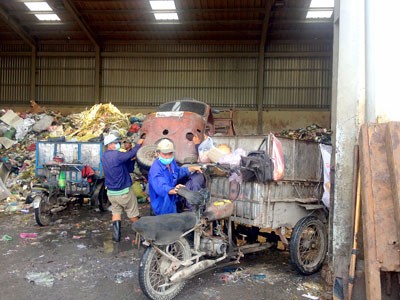 Solid household wastes are being collected for treatment at a station in Tan Hoa Street, District 11, HCMC (Photo: SGGP)
According to the city Department of Natural Resources and Environment, poisonous waste volume will highly increase this year. This situation had been anticipated for many years ago but the city's treatment facilities have not been upgraded appropriately.
 
Businesses had to pay as high as VND40 million (US$1,874) for the collection and treatment of a ton of harmful waste sometimes in 2012-2013. The price for an industrial and household waste ton is VND2.5-12 million.
 
This is because a severe shortage of units who collect and treat wastes. At that time, the city sped up calling social investment in this field but the number of investors has been very limited so far.
 
Recently, HCMC has approved a policy to build two toxic waste treatment plants but they have not come into operation so far.
 
Many waste collection and treatment establishments said that the city has no safe landfill site for toxic waste. A large volume of this waste type can not be burned, it must be buried. Besides ash from the burned waste has no way to move out and has still stayed at production units.
 
If this situation prolongs, the wastes will be dumped into the environment.
 
The city has about 30 toxic waste treatment establishments. Each of them can handle only few tons a day, except a plant under HCMC Urban Environment Company Limited which can treat 21 tons a day.
 
The company's director said that the facility capacity will be increased to 40 tons a day. But it will be able to treat a part of the total volume of harmful waste discharged in the city a day. 
 
In addition, if the city does not build a landfill site, it will be difficult for the company to ensure a safe post-treatment phase, he added.
 
Only about 20 percent of toxic wastes in HCMC have been collected and treated. Environment experts said that limited treatment capacity and exorbitant fees have forced many businesses to seek other ways to handle their waste. For instance, they can discharge it into the environment or mix toxic waste with industrial or household wastes to pay lower treatment fees.
 
In fact, a large volume of noxious waste has been dumped along streets in Districts 7, 8, 12, Binh Chanh and Binh Tan.
 
Therefore, If the city does not invest appropriately in treatment facilities, the city's environment will not be improved as per it target for 2015, experts warned.