From running small restaurants to giant projects, foreigners have left their imprint around Viet Nam and nowhere is it more evident than in Ho Chi Minh City.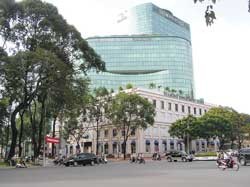 The Diamond Plaza in downtown HCMC is run by Savills, a UK firm. Many other foreign companies also entered the city in droves.
Many have been unable to leave because they met a special person, settled down here, and became assimilated.
In the 1990s, when great economic hardships still gripped the nation and food was people's main concern, Briton Dominic Scriven dared to venture into the financial market. He has expanded his fund which now handles US$1.5 billion.
Scriven recalls how he was enthralled by Viet Nam's potential business opportunities when he first arrived in 1990.
Everywhere he went at the time he heard the words 'doi moi' (renovation), he said, adding opportunities abounded but policies were not clear.
After learning Vietnamese for two years, he co-founded Dragon Capital in 1994.
Such success stories are not rare in HCMC. In 1998 the Diamond Plaza building opened but to effectively manage this entertainment and shopping complex required a professional organization. The UK's Savills Plc was called in.
Since coming over a decade ago, Savills has been managing over 50 properties in HCMC and Ha Noi.
Then there is CB Richard Ellis, which came to Viet Nam during the most difficult period -- in 2003 when the realty market had frozen over and policies restricted transactions.
But Marc Townsend, the company's chief representative, managed to keep things going by constantly organizing programs and conferences on the subject.
Kimchi rules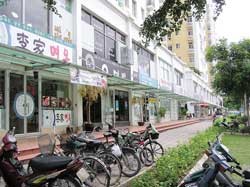 Korean restaurants line up in Phu My Hung area which has around 20,000 Koreans.
HCMC is home to a vast number of foreigners, of whom Koreans make up the second largest group behind the Chinese.
There are an estimated 80,000 of them in HCMC and its vicinity, according to Joseph S. Park, chairman of the Korean Association in HCMC.
They initially settled around Tan Son Nhat Airport and opened small shops in Tan Binh District's Pham Van Hai market. This was in the 1990s.
There were many Korean businesses in the market catering specifically for Koreans' tourism and hospitality needs.
The next wave of Koreans came in 1999, settled in another ward in the same district, and they continue to live here to this day. The area around Hau Giang and Thang Long streets and the Super Bowl near the airport has many restaurants bearing Korean names.
In ward 4 there are 40 restaurants, barber shops and poolrooms belonging to Koreans.
A restaurant chain offering Korean specialty kimchi noodles has mushroomed in districts 1, 3, 5, and Binh Thanh. It was founded by Kim Sung Wook and Tran Mong Uyen, a Vietnamese woman, in 2005.
All its 12 restaurants are decorated in Korean style, have Korean chefs, and import 50% of the ingredients from Korea. The rest of the stuff is bought in Korean markets in HCMC, Ms. Uyen says.
The business began to do so well that Mr Kim's son had to move to Viet Nam to help.
In Binh Thanh District's ward 25, apartment block 24AB is famous as the Korean big house since only Koreans used to live there. Though many families have now moved away, Koreans still occupy over half its 175 apartments.
Now only the Phu My Hung residential area in District 7, which has around 20,000 Koreans, can truly be called Little Korea. With its modern infrastructure and facilities including a school teaching exclusively in Korean, the new urban area is a magnet.
The Korean Association estimates Koreans in HCMC spend US$1 billion every year on rent, transport, food, and education.
In 2005 the Republic of Korea was only the fourth-biggest investor in Viet Nam, but in the next two years it shot to the top. Since 1992 trade between Viet Nam and Korea has gone up 60-fold.
Contributing to such impressive figures are over 1,200 small- and medium-sized Korean businesses in HCMC, not to mention several billion-dollar projects in Vung Tau. Koreans have made their mark in other sectors too.
Worth mentioning are the giant GS Group that is building the Tan Son Nhat-Binh Loi route, apartment chain Cantavil, Diamond Plaza, and the Asiana Plaza project, among others.
Korean businesspeople feel very comfortable with the government's investment policies, Mr Park told Sai Gon Giai Phong.
Other nationalities in the city too tend to live together, giving rise to the 'Dutch Quarter' on Mac Dinh Chi street and 'German Quarter' on Nguyen Binh Khiem, the British enclave around Tan Son Nhat Airport, and Thai and Japanese enclaves on Dong Khoi and Le Thanh Ton streets.
In contrast, the backpacker quarter in district 1, comprising Pham Ngu Lao, Bui Vien, and De Tham Streets, is a melting pot of ethnicities and nationalities, with Caucasians, blacks, and Asians mixing together.
The area offers cheap accommodation and services, including restaurants serving Italian, French, Turkish, African and many other foods.
Finding Second Home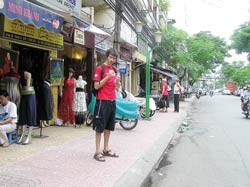 A foreigner in HCMC's backpacker quarter where rooms can be rented at as low as US$30 a month.
After working briefly for the Vientiane Times in Laos, Claude Staingle decided to visit HCMC, once dubbed "Pearl of the Far East," for a change.
He rented a room in the backpacker quarter for a mere VND600,000 (US$36) per month, bought a secondhand bicycle for VND700,000 and found a teacher's job at a language school within two weeks.
The last stop on his Asian tour has, by far, been the longest – six years. It is also here that he found the love of his life.
He loves his wife, his life, and his job, and has many Vietnamese friends.
Another happy, cross-border love occurred between Jimmy Spero and a local girl. Like Claude, Jimmy too rented a cheap room on Pham Ngu Lao Street before meeting Lien, a student. Then his life changed.
"I have achieved all three things: a good job, opportunity to travel, and a happy family," confides a UK real estate businessman who came to Viet Nam 13 years ago. Little did he think he would settle here and marry a local to have two lovely kids.
"Viet Nam has many places to explore. Check the wild mountainous northwest," he often tells his colleagues.