Thousands of people flocked to the My Dinh National Stadium, Hanoi, to take part in the first meaningful event of the Year of the Ox, the 2009 Xuan Hong (Rose Spring) Festival on February 14.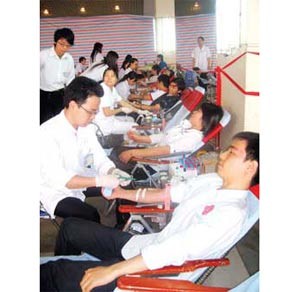 Donors giving blood on Valentine's Day (Photo: SGGP)
Compared to last year's 2,610 units of blood by 5,000 volunteers this year's festival broke 2008's record with 2,700 units of blood donated by 6,000 volunteers in one day. 
Another new record was set with 1,500 ideas for blood donation contributed by over 1,000 visitors.  
The festival not only welcomed people coming alone but also greeted 500 couples. 
A couple, Nguyen Minh Tuan and Le Thang Hang, both students, said: "This is our most emotional Valentine as we are doing the greatest thing for our society. We both know that sharing is caring and this concept is very meaningful. We need to give a hand to needy patients." 
The festival this year came with a Valentine special, the silver wedding anniversary of Le Thi Kim Dinh, 63, and Le Dinh Duat, 68.  
The couple have also participated in 33 blood donation sessions and successfully brought 125 people to donate 106 units of blood between 2000 and 2008.  
The couple renewed their vows, which was held in a classical Hanoian style, with the participation of over 1,000 guests.   
This was the second time such the festival has been organized in Ha Noi. 
Dr Nguyen Duc Thuan, who heads the Ha Noi Municipal Group of Young Blood Donors, said donations on this occasion were very important as after Tet, hospitals are especially short of blood. 
Preparations for the donation festival had been made for the past two months, Dr Thuan said. 
Also on February 14, the National Institute of Hematology and Blood Transfusion and a social network launched a website to serve as a database and forum for voluntary blood donations. The site, at
http://www.bancomaukhong.cyworld.vn/
, aims to connect all potential donors in the most efficient way.