As the time for SGGP's 'Spring of Love' show approaches, more and more artists have thrown their weight behind the charity concert. Five artists touched the organizers' hearts with their words of love.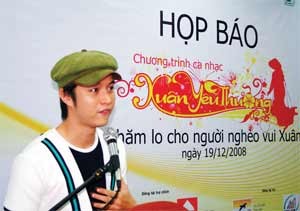 Singer Nhat Tinh Anh at the press on December 19 (Photo: SGGP)
ATB club owner, Ms. Anh Tuyet, a popular opera and romantic music singer, is extremely busy with various projects, including a national tour in January 2009, a special concert entitled 'O Me Ly' ('Bewitching') and managing the ATB club, a music venue in Ho Chi Minh City. But singer Anh Tuyet did not hesitate for a moment when she received the invitation to perform at the SGGP concert. She confided: "I see many people out there living difficult lives but I don't have time to stand by the side of all them, supporting them and helping them to overcome their problems. That's why I chose this concert as a way of supporting them, not only with my voice but also with my heart. I hope my songs will warm their hearts too and bring a new wind of spring to their lives."

For Ms. Thanh Thuy, another popular opera singer, charity concerts are important, especially SGGP's. Ms. Thanh Thuy doesn't reject any invitations to appear in such concerts. This year, Thanh Thuy expects her song 'Vi Sao Em Chet' ('Why did you die?') will touch not only the people at the Lan Anh Music Club in District 3 but the souls of people all over the country.

A representative of the new generation of pop singers, who is also a popular model, Ms. Ho Ngoc Ha was also willing to give priority to the SGGP concert. Though receiving invitations to perform in at least three shows on December 27, Ha chose to start her night by performing at the SGGP concert.
She confided: "I always want to contribute my strength to bring the happiness to needy people, and I'm so happy that I can do it this time. I believe the spirit of Tet is about giving. And I never go against that spirit. I, myself, feel so much passion and excitement in preparing for this concert. Once again, I must repeat my thanks to SGGP since they have given me an opportunity to get close to my audience, understand them, sing for them and share with them happiness and sadness."

The sole singer at a press conference for the concert on December 19, Nhat Tinh Anh showed a lot of interest in the show, saying: "If there was any chance to bring the happiness of spring to other people, I would probably catch it. I hope my voice can spread happiness to the masses and the concert is one way to do that."

This year, SGGP will brings the usual spring theme 'Thi Tham Mua Xuan' ('Whisper of the spring') composed by Ngoc Chau to its concert. The song will be performed by newcomer Nathan Lee. "This is the first time I have received an invitation from SGGP. At first, I felt quite anxious about my song since I have never performed it before. That means I have to work harder than usual. But I practiced so I can help those who are unlucky or lack normal facilities to live in a normal life. I believe I will do this song well. There concert makes me feel that I'm a helpful person. I truly hope that my work will support this meaningful activity."


SGGP's `Spring of Love' charity concert will begin at 8 p.m. at Lan Anh Music Club in District 3 on December 27. It will also be broadcast live on HTV9.
Related articles:

Tet and Christmas spirit of giving
Sai Gon Giai Phong concert to raise money for poor