In the northwestern province of Lao Cai, downpours on Sunday night unseated large chunks of hillside, leaving several roads in near ruins.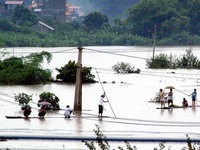 The northern mountainous provinces of Cao Bang, Lao Cai are flooded with water

The next morning, an estimated 1,000 cubic meters of cascading soil and rock closed the section of Highway 4D in Tong Sanh commune, Bat Xat District as well as Road 153.

Maintenance crews have been kept busy clearing and repairing both roads.

The Lao Cai Communications and Transport Agency warns that at least four or five roads in and around the popular tourist haunt of Sa Pa are at grave risk of collapsing.
A maintenance crew is working around the clock to try to avoid a calamity.

In nearby Yen Bai province, the all-night rain brought flooding and damaged homes.

The Yen Bai Steering Board for Flood Control says that by Monday morning, 157 homes had been damaged and several swept clear away.

The most flooded areas of the province, with some places up to a meter underwater, are the market in Yen Thinh Ward, Hao Gia village in Dong Tam Ward, Sen Road and Yen Bai's Health Department residential quarter in Minh Tan Ward.

Around 15 hectares of cropland is submerged, livestock has been carried away, and 15 roads are damaged.

Down south in the Mekong Delta, the swollen rivers have flooded paddy fields in An Phu and Tan Chau in upstream An Giang province, and Hong Ngu, Tan Hong, and Tam Nong in Dong Thap province.

On Monday, the Tien River measured 2.67 meters and the Hau River 2.01 meters. The forecast is for both to keep rising and start flooding Dong Thap Muoi and the Long Xuyen Quadrangle.

Rice growers in the region are being urged to harvest their crops as quickly as possible. In Dong Thap, no rice has been lost as the farmers have already picked their crops.

The authorities of An Giang have ordered that dikes be reinforced to protect 25,000 hectares of crops.

Mr. Nguyen Van Phuong, deputy director of the An Giang Agriculture and Rural Development Department, said that, in these conditions, farmers should grow mushrooms, lotuses and vegetables and raise eels and fish.

He told a reporter from Sai Gon Giai Phong newspaper that raising clawed crayfish generated great profits in the flood season; some households earned as much as VND120 million from this source.