The National Committee for Traffic Safety has announced that the program to exchange poor quality helmets for better and stronger helmets will be held once again in Hanoi and other parts of the country.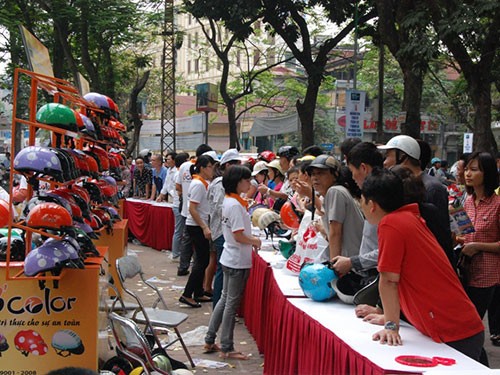 The helmet exchange program being held in Hanoi (Photo: VGP)
The program was earlier held on March 23 in Hanoi. Hanoians rushed to exchange their old helmets for better quality helmets and the program proved a great success.
This time, many more manufacturers will join in, including well-known brands. People in the northern provinces of Thai Binh, Hai Phong, Ninh Binh will have a chance to exchange their poor quality helmets for better ones in April and May.
Ho Chi Minh City plans to organize the program in 24 districts in April. In the last event, nearly 40,000 helmets were exchanged in Hanoi within seven days.
Noticeably, people's awareness of better quality and safer helmets has been raised and staff members of the committee provided information on the negative effects of substandard helmets to people.
All helmets for the exchange program will be subsidized.