The Women's Union has many important duties and chief among these is to combat violence in the home and protect battered women and children from further harm, the party secretary of Ho Chi Minh City said yesterday.
Addressing the annual congress of the city's Union of Women's Associations, Ho Chi Minh City's Party Chief Le Thanh Hai praised their past accomplishments and emphasized that their activities should be designed to inspire a sense of self-awareness and creativity in women.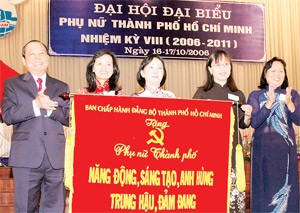 Mr. Hai ( L) presents a banner to the union
The aim should be to help women make a decent life for themselves, gain material wealth and raise well-adjusted families, Mr. Hai said.
Another area where the union has an important role to play is the training of female cadres for the party and for government work, he added.
Mr. Hai's part in the proceedings wrapped up with him presenting a giant red banner on which the words "dynamic, creative, hero, faithful and responsible" (in Vietnamese) were embroidered in gold.
Also yesterday the union appointed a new chairwoman and 57 new committee members.