Responding to state policy on creating suitable jobs for people with disabilities and to the United Nations' program to protect the rights of disabled people, a number of companies have now not only offered suitable jobs for disabled people but also offered them board and lodging. And, if a disabled worker gets married, management is beginning to think about building a home for them.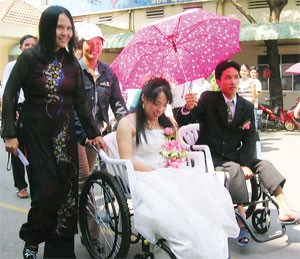 Quan and Binh on their wedding day

It was a special wedding reception as both the bride and the groom are disabled and most of the guests disabled, too. When the groom was putting the wedding on the bride's finger, many guests could not hold back their tears.
The 23-year-old groom, Nguyen Duy Quan, and 28-year-old bride, Dang Thi Thanh Binh, are among more than 20 workers of the Viet Hung Garment Company, District 12, Ho Chi Minh City.
Binh was born in Ha Noi and suffered from poliomyelitis when she was a child. Being an orphan, she was brought up by the Little Prince Disabled Children Center in DongNai Province. Quan was born disabled in a poor family of many children in Dong Nai Province and had to leave his family for HCMC to earn a living there.
They met each other several years ago when Viet Hung Company was recruiting disabled people.
Quan and Binh fell in love, but neither of them dared dream of marriage as both are poor. When Quan took Binh home to his family, his mother burst into tears as she was worried about the hardships awaiting her own son's family plans.
Yet, Quan and Binh soon calmed his mother's fears by demonstrating their skills at independent living.  So Quan's mother cried again, this time imaging her son's happiness with his own family and prospective children.
At the wedding yesterday, aside from Quan's family and relatives, were members of the Viet Hung Company Board of Management,  including the general director, chairman of the company's Trade Union, Personnel Manager and most of their colleagues.
And the company is also now outlining a plan to build houses for their disabled workers.
Looking at the pair accompanied by their colleagues to their wedding, held next to the company's premises, Quan's mother smiled happily as she looked forward to a day she could carry her son's first baby in her arms.