The Ho Chi Minh City Export Processing Zone and Industrial Park Authority (HEPZA) said that this year their trade union will give away free bus tickets to 6,000 workers to return to their hometowns in the central and northern provinces to celebrate Tet Lunar New Year.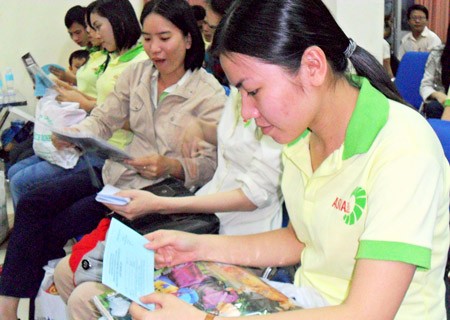 A worker from the north central province of Quang Tri receives a free Tet train ticket (File Photo: SGGP)
Workers entitled to these tickets must be members of the trade union, or both husband and wife should be workers, or those workers who have not had the good fortune of going to their hometown during Tet for three consecutive years.
This year again Hepza will continue its program to visit and give presents to 1,500 workers who did not return to their hometown for Tet, or those who were laid off from jobs or those undergoing treatment for diseases at hospitals.
Hepza will also give 50 scholarships to workers to study at universities, increase mobile outlets to sell price subsidized goods and organize selling of Tet bus and train tickets directly at their place of work.